Включение трим на macOS
 После установки неродного SSD диска на компьютерах фирмы Apple необходимо вручную включить trim.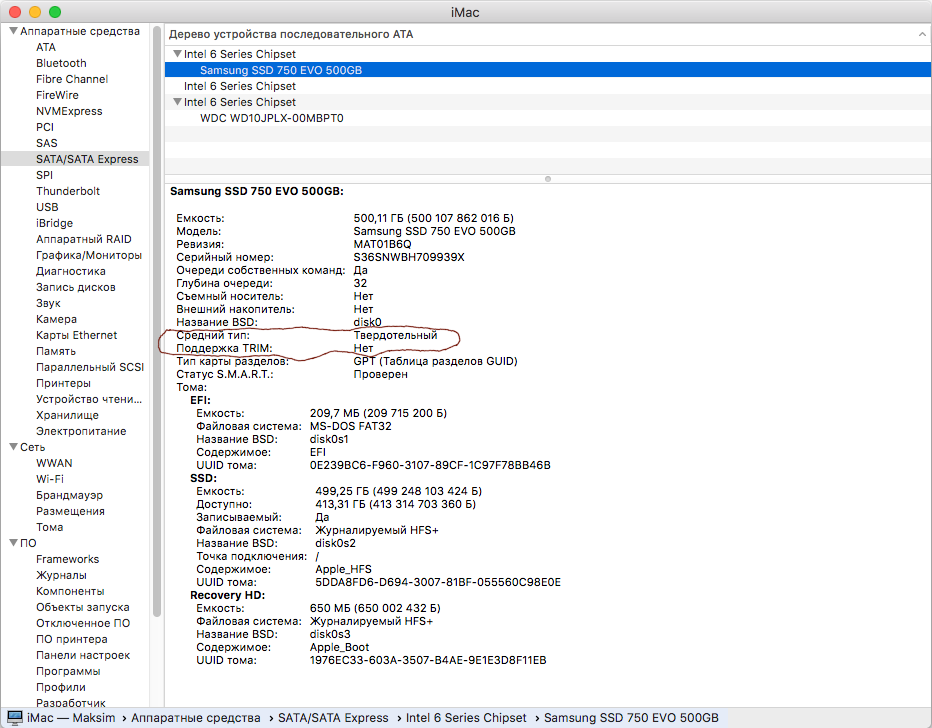 Для этого надо открыть терминал и ввести консольную команду sudo trimforce enable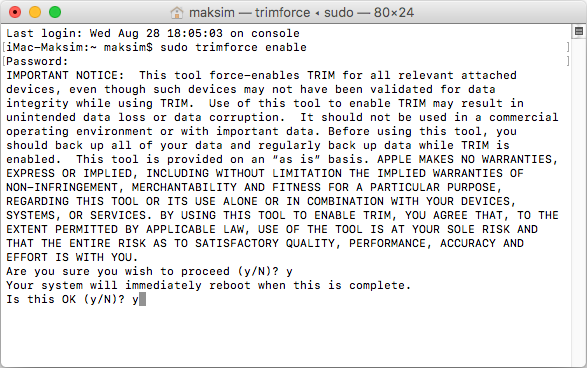 Будет показано предупреждение:
IMPORTANT NOTICE: This tool force-enables TRIM for all relevant attached
devices, even though such devices may not have been validated for data
integrity while using TRIM. Use of this tool to enable TRIM may result in
unintended data loss or data corruption. It should not be used in a commercial
operating environment or with important data. Before using this tool, you
should back up all of your data and regularly back up data while TRIM is
enabled. This tool is provided on an "as is" basis. APPLE MAKES NO WARRANTIES,
EXPRESS OR IMPLIED, INCLUDING WITHOUT LIMITATION THE IMPLIED WARRANTIES OF
NON-INFRINGEMENT, MERCHANTABILITY AND FITNESS FOR A PARTICULAR PURPOSE,
REGARDING THIS TOOL OR ITS USE ALONE OR IN COMBINATION WITH YOUR DEVICES,
SYSTEMS, OR SERVICES. BY USING THIS TOOL TO ENABLE TRIM, YOU AGREE THAT, TO THE
EXTENT PERMITTED BY APPLICABLE LAW, USE OF THE TOOL IS AT YOUR SOLE RISK AND
THAT THE ENTIRE RISK AS TO SATISFACTORY QUALITY, PERFORMANCE, ACCURACY AND
EFFORT IS WITH YOU.
Are you sure you wish to proceed (y/N)? y
Your system will immediately reboot when this is complete.
Is this OK (y/N)? y
Внимательно читаем и если устраивает, то соглашаемся.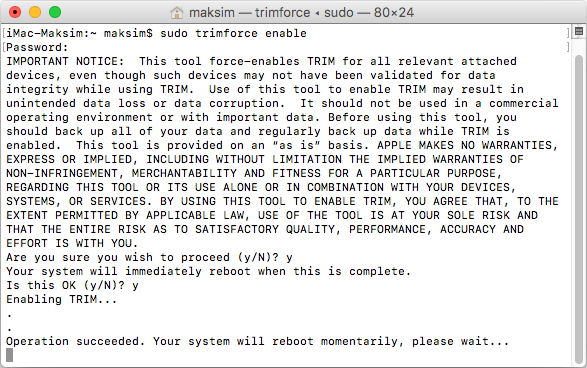 Далее компьютер сам перезагружается и если SSD совместим с macOS (Везде рекомендуется использовать SSD фирмы самсунг как самые совместимые), то трим включится и будет корректно работать.